C-3PO Eyes kit (Laser Cut)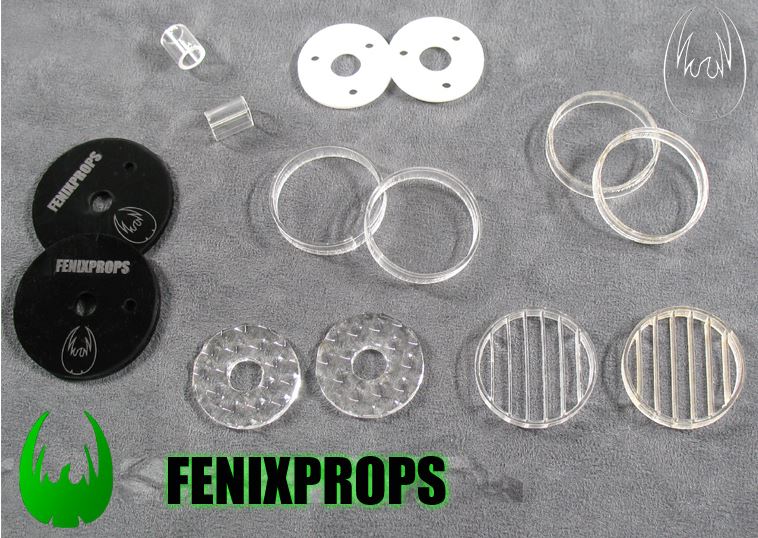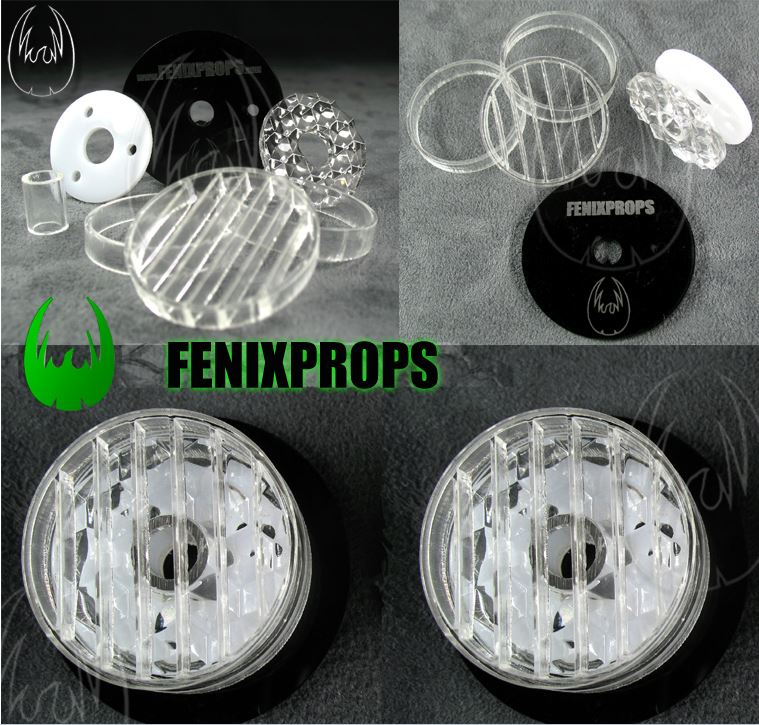 Made to measure
for a perfect fit
Free shipping
to America
Combined shipping
for lower costs
Premium
wool & leather
"C-3PO Eyes Kit"
- This kit is laser cut out from high-quality acrylic -
Kit content:
- Front Grilled pieces (x2)
-Clear Prismatic Acrylics (x2)
- Center Tubes (x2)
- Body Rings (x4)
- Translucent white led support circles (x2)
- Black end circles (x2)
With one kit you will be able to assamble a pair of eyes.
The front grill is laser cut, at the front it has a milling between grills and a circle to emulate the original union.
(You should glue it with the milled side to the front)
The prismatic acrylic and the white translucent circles have a hole to fit the tube.
These circle comes with 3 symmetrical holes of 3 mm to fit leds.
(Leds are not included, we recomend adding yellow ones)
The center hole of the black-end circle has the diameter of the inner tube section to allow visibility and will work as a stopper. It also comes with a small auxiliary hole to place the cables for the leds.
This kit has accurate measures and was developed to have the original shape and look once assembled.
It needs assembling and basic skills.
We combine shipping. Buy more, save more!
- Glue and basic skills needed-

If you have any questions, feel free to contact us.


We ship worldwide
NOTE:
Please remember that international shipping takes time to arrive.

We usually ship
orders
within the week after payment is received.
Thank you in advance for your patience.
Not associated with LUCASFILM LTD. ™ or any LFL Ltd. ™ Film or Franchise. "Star Wars" is a registered trademark of LucasFilm Ltd. The Star Wars logo, characters, prop designs and names © LucasFilm Ltd. This document and related sites/products is not sponsored or endorsed by LucasFilm Ltd. or any of its affiliates. All © and ™ are property of their respected owners and are used here for comparative or descriptive purposes only.
We use premium materials such as wool and real leather (Napa 0.69)
to deliver garments with the finest quality and durability