Stormtrooper/Sandtrooper ANH Decal Set for MR CE/eFX Helmets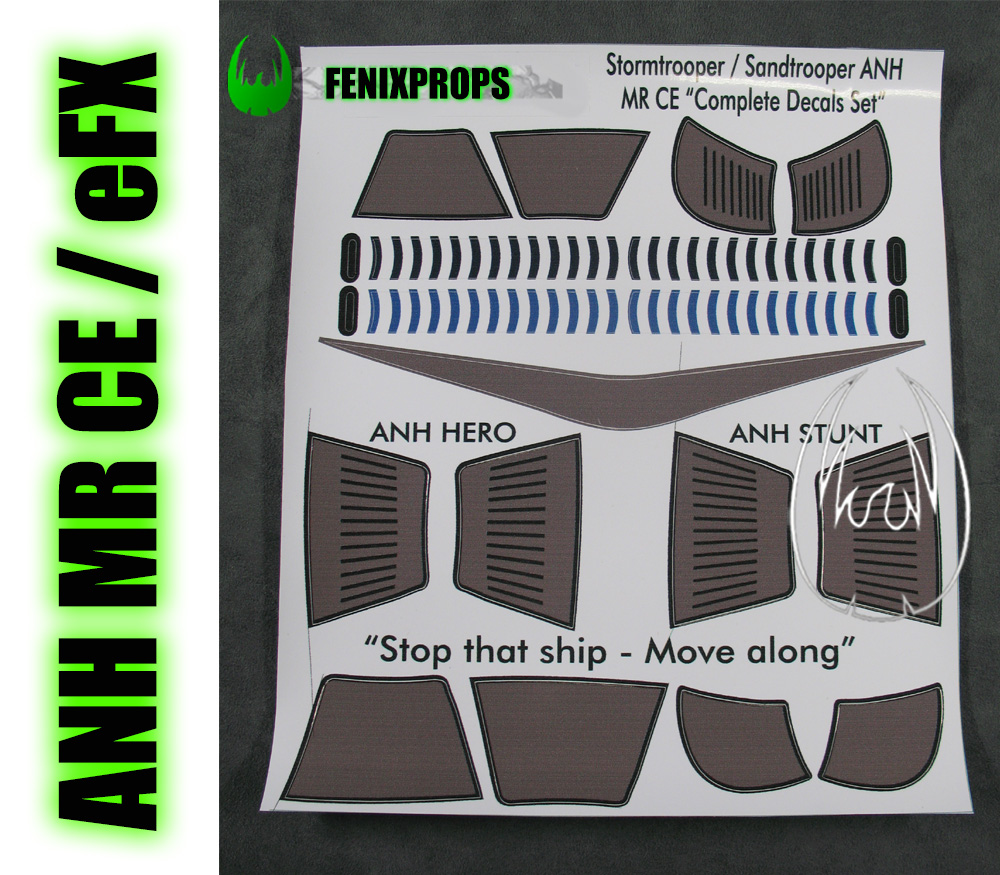 Made to measure
for a perfect fit
Free shipping
to America
Combined shipping
for lower costs
Premium
wool & leather
"Stormtrooper / Sandtrooper ANH decal set for MRCE / eFX"

These decals were designed based on reference material of the ANH film to obtain an incredible similarity never seen before!
- Accurate gray color
- Correct pattern lines on cheeks
- Blue side lines are cut in one piece like originals
- Back decals with accurate line pattern
- Also Included "Stop that Ship" and "Move along" variations!
- These set is designed to fit MRCE or eFX Helmets -
Here is the chance to upgrade or finish your ANH Helmet as it should!

These are not multi layer plotted vinyl decals that are difficult to place as they come apart as soon as you take them out of the sheet…
Ours are the real deal!
These are real "printed" decals, laser cut!
Ready to place, Very easy to use!
These decals have been laser cut from PRINTED professional grade materials. This flexible material can match curved shapes, is washable and outdoor element resistant. Easy to apply, long lasting and will not damage surface finishes.
We combine shipping. Buy more save more!
If you have any question feel free to mail me!
Will ship worldwide!!
NOTE:
Please remember that international shippings take time to arrive!
Usually orders shipped within the time frame of 7 days after payment is received.
Thanks in advance for your patient while waiting for your costume pieces.
Not associated with LUCASFILM LTD. ™ or any LFL Ltd. ™ Film or Franchise. "Star Wars" is a registered trademark of LucasFilm Ltd. The Star Wars logo, characters, prop designs and names © LucasFilm Ltd. This document and related sites/products is not sponsored or endorsed by LucasFilm Ltd. or any of its affiliates. All © and ™ are property of t
We use premium materials to deliver props with the finest quality and durability.