FREE SHIPPING
Darth Vader 3-Piece Leather Body Suit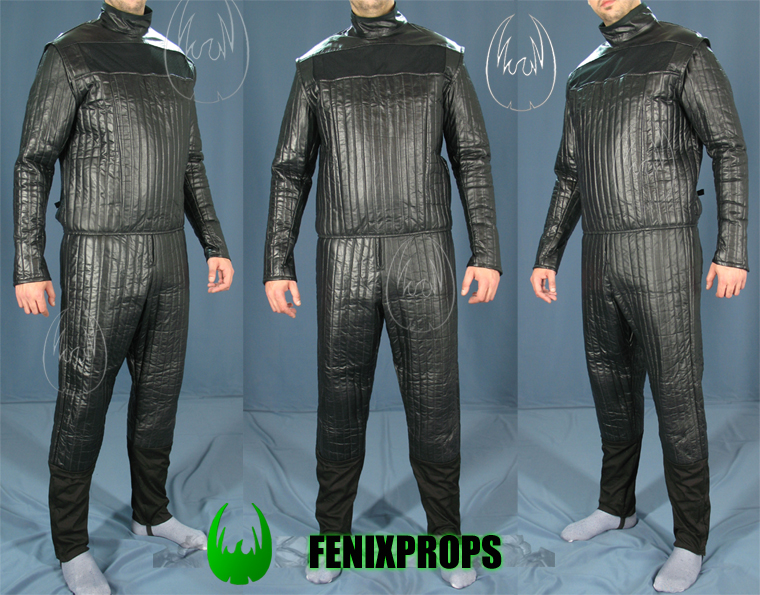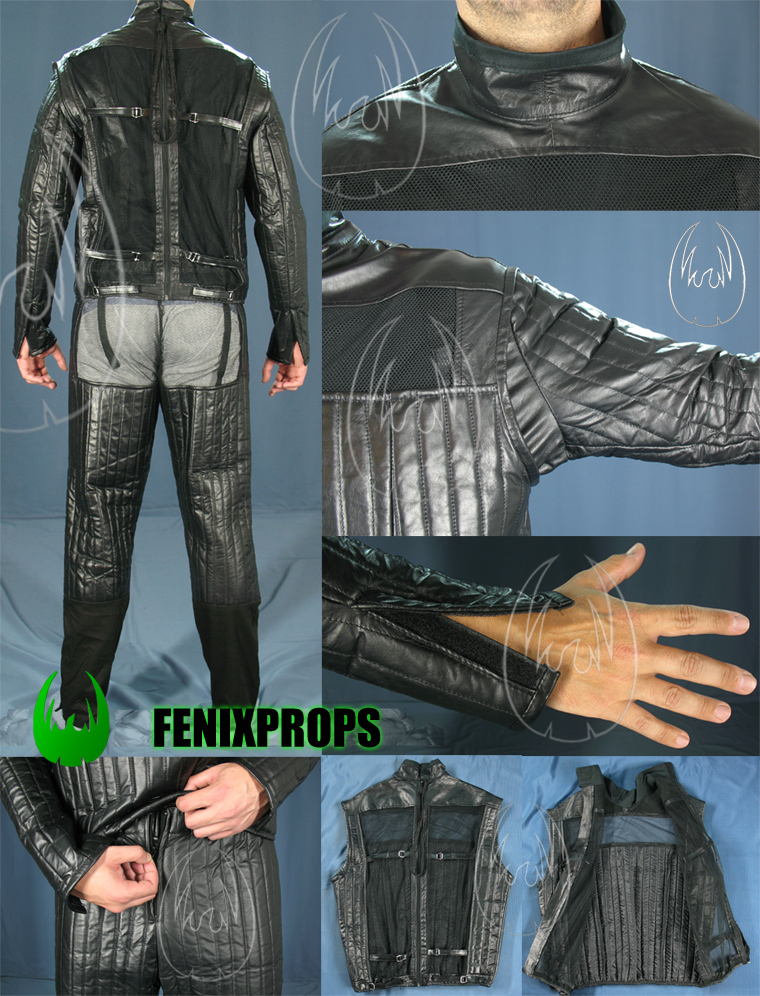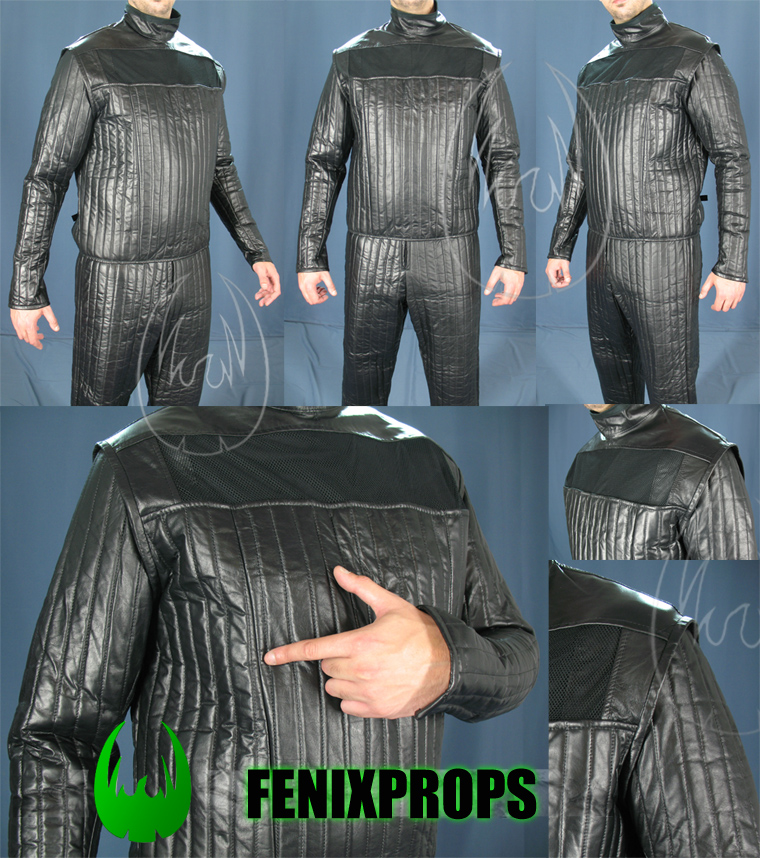 Made to measure
for a perfect fit
Free shipping
to America
Combined shipping
for lower costs
Premium
wool & leather
"Darth Vader 3 piece Leather body suit"
- NEW DESIGN -

"Free Shipping to AMERICA, other places pay only a small charge"

Look, more accurate than ever!
- 3 piece like the original -

Please, keep in mind that this listing is only for TAILORED MADE suits.
Listing for STANDARD SIZE suit are available in our site!

Based on the original movies, books, pictures and expos, this new model was developed reflecting all the details of the original!

- Made with the correct padding amount on the ribbed allowing flexibility and screen accurate suit look

- The chest of this body suit is built with three ribbed panels sewn together just like the movie one!
Notice the 2 lines across the chest like the original.

- The lower part of the legs was made as the original with fabric allowing a better fitting into the boots! Has elastic that goes around the feet to keep the pants inside of the boot.

Made with the highest quality leather (Napa 0.69), with satin lined interior.

Upon purchase we will send you a measurement chart indicating what measures we need from you to make this beauty tailored to your size, this suit will fit your body like a glove!!!

It has mesh netting on the upper front chest and the entire back so it will be cooler than other complete suits (When you use the complete outfit these parts are not visible).

The Zipper in the back has a strap (surf-like suits) to close or open without any help! The back also has straps to adjust it tighter or looser for comfort.

The "pee" area also has a zipper (even Dark Lord has to go!!). Velcro is used in the sleeves and legs this way no zipper will bother you. In these areas the gloves and boots could be tight and having a zipper could harm you or your costume.

This is a 3 piece version, leather sleeves t-shirt, vest and pants.
This option is for the ones that are looking for movie accuracy.
Pherhaps 3 piece suit is not the best option if you are planing on moving a lot in a lightsaber fight or when trooping but is for sure the most accurate and comfortable of them all!
Argentina is well known for the quality on leather goods. We use only "the best" leather in the market to produce these pieces!
Others can claim the same ( to use the best ) but if you read carefully in other sellers leather processes explanation you will notice that they are mistaken; so, how can you trust that they are really using the "best leather" if they don´t even know about leather or their processes?
The difference between leathers is shown in time or its use, they coud look alike, but they are not the same!
To produce this suit we use First Quality NAPA leather
The Tanning, dye and selection processes are all handmade, no industrial process is used, every single piece is inspected so you receive "the best".
Our leather goes through a Full aniline dye, so all the thickness is the same color of the surface. Even if it suffers a scrape or has heavy use, the leather will remain black!
Dye prosesses don't cover inperfections; that's why you need a first cuality leather to dye!
In contrast, second quality leathers are painted to cover all the imperfections but they don't have the color in all the thickness, only in the surface and when it gets scraped or used for a long time, they show the original color and imperfections of the leather underneath.
The sewing of the leather is made with hard thread, very strong!!!
This is a handmade product so all the details are well taken care!


Includes: leather long sleeve t-shirt, vest and pants.
We combine shipping. Buy more and Save more!
These suits are made in our work shop for expert people… You can find other persons who sells them… But are not the same quality! If you ask arrownd you will confirm this. If you have any questions please email me and I`ll be very glad to help you.-
Usually orders take 30 days aprox. to be completed after payment and measures were received. Please be pacience, we do the best! so we take our time to insure allways the best!
If you have any question feel free to mail me!
NOTE:

Please remember that international shippings takes time to arrive!

Thanks in advance for your patience while waiting for your costumes pieces.
Not associated with LUCASFILM LTD. ™ or any LFL Ltd. ™ Film or Franchise. "Star Wars" is a registered trademark of LucasFilm Ltd. The Star Wars logo, characters, prop designs and names © LucasFilm Ltd. This document and related sites/products is not sponsored or endorsed by LucasFilm Ltd. or any of its affiliates. All © and ™ are property of their respected owners and are used here for comparative or descriptive purposes only.
We use premium materials to deliver props with the finest quality and durability.