Clone Trooper Ep 3 Side Decals Black
Available since:
08-Nov-13 12:38
Item category: Store/Star Wars/Clonetrooper Ep 3
More items from this category: 5
Item is Physical (requires shipping)
"Episode 3 Clone Trooper Side Decals Black "
If you have a custom made or a repainted helmet this is the ideal piece to finish it!
Ready to place, comes with transfer sheet to stick all lines at the same distance and height in only one step!
This decal has been laser cuted from professional grade materials.
This flexible material can conform to curved shapes, is washable and resistant to the outdoor elements.
Easy to apply, long lasting and will not damage surface finishes.
We combine shipping. Buy more and Save more!
Very easy to apply!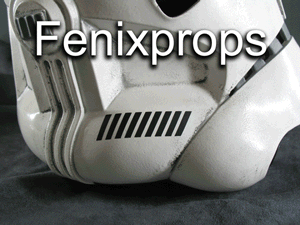 - Helmet is not included, only decals set -
If you have any question feel free to mail me!
Will ship worldwide!!
NOTE:
Please remember that international shippings takes time to arrive!
Usually orders ship within the time frame of 7 days after payment is received. Thanks in advance for your patience while waiting for your costumes pieces.
Not associated with LUCASFILM LTD. ™ or any LFL Ltd. ™ Film or Franchise. "Star Wars" is a registered trademark of LucasFilm Ltd. The Star Wars logo, characters, prop designs and names © LucasFilm Ltd. This document and related sites/products is not sponsored or endorsed by LucasFilm Ltd. or any of its affiliates. All © and ™ are property of their respected owners and are used here for comparative or descriptive purposes only.
There is no FAQ for this item
My review about this item
Please register to post a review